Spotlight on Jim Thorpe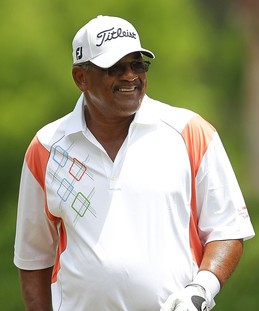 Born on February 1, 1949 in Roxboro, North Carolina, Jim Thorpe, who is affectionately called "Thorpie" by his family, friends and fans, is an American professional golfer, currently playing on the PGA Champions Tour.
The ninth of twelve children and the son of a golf course greenskeeper and fairway superintendent (Elbert Baxter Thorpe, Sr.), Thorpe attended Morgan State University before turning pro in 1972. It would be more than 10 years before he won on the PGA Tour, though he did so in style, beating Jack Nicklaus by three strokes at the Greater Milwaukee Open in 1985.
Two more victories, both at the Seiko-Tucson Match Play Championship, would follow within little more than a year. He ended 1985 fourth on the PGA Tour's money list, and showed the world that he was destined for greatness at golf's highest levels. Thorpe has won 13 times on the Champions Tour and three times on the PGA Tour. Jim Thorpe is many things to many people...world famous golfer, prominent advertising spokesman, devoted husband, father, grandfather, mentor and friend. Growing up in the Baptist
church, Jim was taught to respect his elders. Before his parents passed away, Jim strived to get his father's approval and worked hard to make sure that his mother was happy. When he met his wife Carol, the task of keeping his "main girl" happy seemed to take on a new meaning. After 35 years of marriage, Jim says that Carol still has a way of making his heart skip a beat now and again. A jokester, Thorpe has a way about him that automatically draws people to him, which is one of the qualities that sold Carol. His down-to-earth common touch has made him one of the more popular, accessible and sought after public figures in the world of golf.
In addition to his magnetic personality and unfailing sense of kindness, Thorpe has a passion for educating inner city youth. He has raised money for and assisted organizations like First Tee, Boys and Girls Club, Birdies 4Braves, UNCF, Boy Scouts of America, YMCA, Golf4Youth, Special Olympics, Teen Challenge, The Urban League, David Maus Foundation, Cigar Aficionado Honduran Hurricane Relief Fund, Inner City Youth Golf Program and the Native American Golf Classic, to name a few. Jim mentors youth who participate in International golf programs in the US. In January of 2012, Jim was named the Ambassador to the Tobago Junior
Golf Academy.
While spending time on the golf course tends to be Jim's favorite past time, he also enjoys deer hunting, shooting pool and watching horse racing. Jim and his family attend Crossing Community Church (Sanford, Florida).
Jim has four girls – Monica Thorpe, Darlene Thorpe, Sheronne Emira Thorpe Gilchrist and Charae Jihan Thorpe
DID YOU KNOW?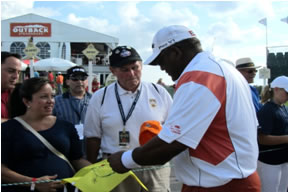 Below are a few facts about Jim Thorpe...
He has finished 1st on the Champions Tour 13 times.
He serves as the Ambassador to Tobago's Junior Golf Academy in Trinidad.
He enjoys mentoring youth who have an interest in pursuing the game of golf.
One of his favorite cigars is the Don Pepin Garcia Invictos.
Personal Facts and Headline News
PGA Champion Jim Thorpe to Co-Chair 9th Annual Golf Classic in Greensboro, NC
International Civil Rights Center & Museum Raises Awareness 

Jim Thorpe Facilitates Clinics for the First Tee Program of Savannah (GA) CLICK HERE
Is the ninth of 12 children. Grew up next to eighth fairway at Roxboro (NC) CC, where father, Elbert Sr., was the superintendent.
One of his brothers, Chuck, played for a period on the PGA TOUR and in several events on the Champions Tour in 1998, while another brother, Bill, went through the National Qualifying Tournament several times.
Earned a football scholarship to Morgan State as a running back.
CAREER HIGHLIGHTS
CLICK HERE For more career highlights and TOUR VICTORIES
Testimonials
"Jim Thorpe came to town and our young people are already asking when he'll be back! What an amazing man he is... I watched him spend time with each and every First Tee participant. He is a gentle giant and we look forward to having him back."
.
"Mr. Thorpe's visit to Springwood Care Nursing & Rehabilitation Center made a lasting impression on our residents"
Send A Message To Jim
Send a personal message to Jim Thorpe: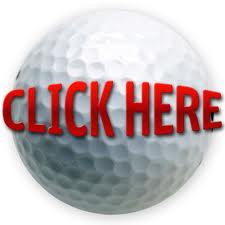 Recap of Biloxi, Mississippi Gulf Resort Classic Featuring Jim Thorpe (03/25/2012)